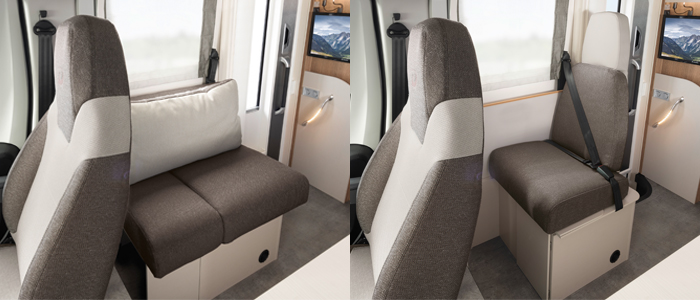 If you would like to retrofit additional seats in your own motorhome, you need to take note of the following points, which your contractual or servicing partner can check in advance:

Is retrofitting one or more seats technically feasible?

The feasibility must be clarified with the manufacturer here. If the necessary parts are available and can be retrofitted, it then needs to be checked whether the vehicle requires a weight upgrade. Depending on how many features the vehicle has, a weight upgrade may be required as increasing the number of seats increases the standard weight required for approval. This must not be more than the vehicle's maximum authorised mass!

Once these points have been cleared up and the retrofitting is complete, the vehicle must be taken to a recognised technical testing organisation. The following documents are essential here:
The manufacturer's certificate of good standing
Test report
Work instruction for the retrofitting
This will enable the testing engineer to certify that all works have been carried out to specification and to check the works against the vehicle.