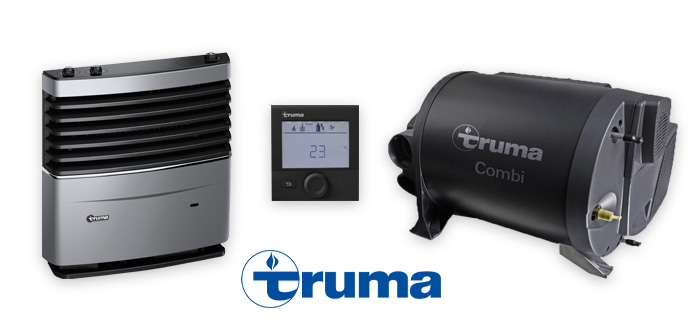 Truma Combi
The LPG heating system is a warm-air heater with a built-in hot-water boiler (10-litre capacity). The burner is fan-assisted, which ensures seamless operation, even when on the move.

Truma Combi (E)
If you have installed a Truma Combi E, the heating can be operated using 230V heating elements. It is also possible to power the heating using a mixture of gas and electricity.

Heating and hot water
This heating and hot water system can heat the room while also warming up the water. The respective components can also be used separately, so the water can be heated up (when the boiler is full) without heating the room, and vice versa.

Truma S heating
The heating is supplied with LPG and is ignited using a battery-operated ignition in the burner. The observation window can be used to check whether the gas has ignited. The hot air flows through an S-shaped heat exchanger and exits the vehicle together with the combustion flue gases through the exhaust duct.

The heat exchanger heats the direct ambient air in the heater housing. The air flows into the vehicle's interior through the slats in the casing and a fan distributes it throughout the caravan, if necessary.