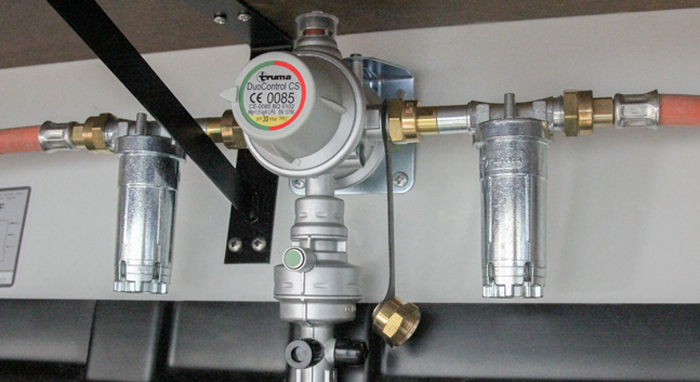 What is Truma DuoControl CS?
Truma DuoControl CS is a gas pressure regulator for two-cylinder operation. The built-in crash sensors enable you to operate your gas system while the vehicle is in motion and to automatically switch to the back-up cylinder when the main cylinder is empty.


The crash sensor
In the event of an accident or if the roads are bumpy, the crash sensor will trigger and immediately shut off the gas supply. You can reset the crash sensor by pressing the yellow reset button on the DuoControl.


Truma DuoControl remote indicator
The remote indicator shows that the regulator is operational via a green LED. If the green LED goes off and the red LED goes on, this means the current cylinder is empty and the system has switched to the other cylinder. So you should refill or replace your cylinder as soon as possible. You can also switch the EisEx on and off on this remote indicator. The EisEx (a 12V regulator heater) prevents ice droplets from forming in the gas pressure regulator in winter. This also guarantees a seamless gas supply, even in winter weather.


Truma gas filter
Oily particles are carried along with the gas flow as aerosols. Over time, they are deposited in the gas pressure regulator and block it. The Truma gas filter effectively protects the gas system from these kinds of impurities and uses a filter pad to filter out the residues from the gas. When the cylinders are changed, the filter pad should also be replaced to ensure a long lifetime for the gas system.