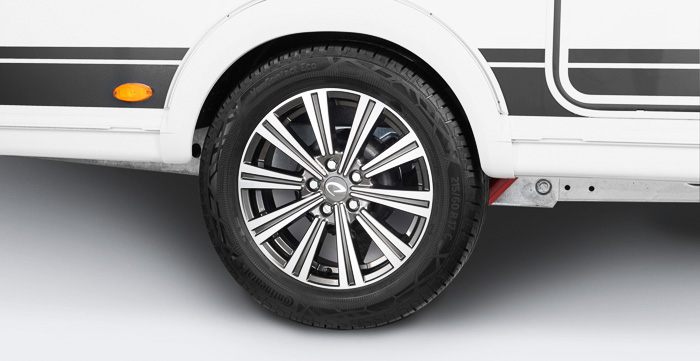 Tyre pressure
If tyre pressure is too low, it can lead to the tyre overheating, which can cause severe damage to the tyre.
Check tyre pressure regularly before every journey or every 2 weeks. Incorrect tyre pressure causes excessive wear and tear and can lead to damaged or burst tyres. The driver could lose control of the vehicle.
Only use valves approved for the stipulated tyre pressure.
Only check tyre pressure when the tyres are cold.

The weight-bearing capacity and thus the stability of a tyre directly depends on the tyre pressure. Air is a transient medium – it escapes from the tyres and there is no way of avoiding this. As a rule of thumb, when the tyres are full, they lose 0.1 bar pressure every two months. To avoid damaged or burst tyres, the tyre pressure needs to be checked on a regular basis.


The stated tyre pressure values apply to loaded vehicles with cold tyres.
When the tyres are warm, the pressure is higher than when the tyres are cold. So you should check the correct pressure when the tyres are cold.
The tyre pressure is stated in bar.

Vehicles are always being improved in line with the latest technology. It may be the case that new tyre sizes are not taken into consideration in these tyre pressure tables. If this is the case, your Dethleffs dealer will be happy to provide you with the latest values.