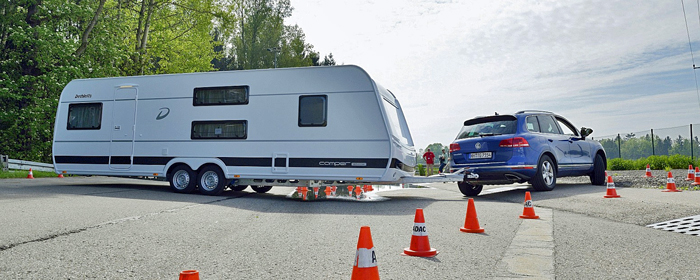 Caravan safety
| | |
| --- | --- |
| | Anti-snaking system - just like the ESP in a car, the anti-snaking system gently applies the brakes to the caravan within a split second of it starting to snake, bringing it back to a safe driving position. |
| | Gas pressure regulator with crash sensor - the gas pressure regulator has a safety and comfort component: On the one hand, the built-in crash sensor ensures that the gas supply is immediately shut off in the event of a collision so that gas cannot escape uncontrollably. This safety mechanism also allows gas consumers to be operated while the vehicle is in motion. |
| | Self-adjusting brakes - ensures an optimum, shortened braking distance. |
| | Smoke alarms - a proven life-saver. A piercing beeping sound warns of the emission of smoke. |
| | Axle shock absorbers - ensures optimum road holding. |
| | Brand-name chassis - from the leading German manufacturer. |
| | Specialised jack head - prevents pitching and snaking. |

Motorhome safety

| | |
| --- | --- |
| | ESP (Electronic Stability Programme) – keeps the direction of the vehicle and the motion of the wheels under control. It kicks into action in dangerous driving situations, brakes individual wheels or slows down the vehicle by reducing the power. This will keep the vehicle safely in lane. |
| | 3-point seat belt - all seats in the direction of travel are fitted with a 3-point seat belt and sturdy headrests, as is standard for automobiles. |
Other key advanced driver-assistance systems:
ASR (Anti-Slip Regulation) – prevents the wheels from spinning when driving uphill.
Hill Holder – prevents the vehicle from rolling back when driving uphill.
HBA (Hydraulic Brake Assistance) – emergency braking assistance. The system detects emergency braking and increases the pressure on the pedal whenever necessary.
Roll-Over Mitigation – prevents snaking and improves stability, even around bends.
Hill Descent Control – helps to maintain the required speed (up to max. 30 km/h) on steep inclines without constant braking. The driver can focus entirely on steering (activated via a button on the dashboard).