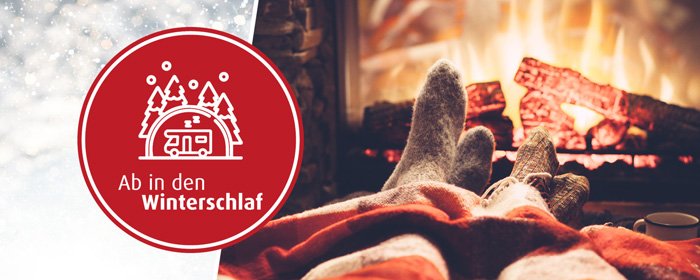 Winter tip: hibernation - when vehicles take a break

Even in the Allgäu, we can understand that winter camping is not everyone's thing. If, however, you aren't planning to see your friend of the family again until spring, there are a few important things to note before the vehicle goes into hibernation. We have compiled a list of tips on how to properly prepare motorhomes and caravans for the winter break. When the golden season of autumn starts to not seem so golden any more, many campers start to allow their trusty holiday steed to gather dust. Depending on the options available to them, the vehicle will sit outside, carefully covered in a carport or even in a dry barn. Although there are specialised covers offering weatherproofing for vehicles parked outside, it is ideal if a motorhome or caravan can see out the winter in a protected place.

Before the seasonal shutdown, it is also worth checking the vehicle's records, as an MOT may need to be booked during this downtime. If this is the case, it is worth booking it in sooner rather than later. This can avoid annoyance due to missed deadlines when you come to use it again.

In places such as Germany, where they have seasonal licence plates, vehicles with a seasonal licence plate cannot be parked on public roads outside of the stated season. This includes parking on the street and in public car parks. In addition, unhitched caravans, even if they have year-round licence plates, can only be parked by the side of the road for a maximum of two weeks in Germany. So it would be wise to find sensible winter storage for it in good time.

It is worth carefully preparing for the seasonal break and making sure the vehicle retains its value during this time. During the preparation phase, there is a list of one-off things you can do, at the top of which is carefully cleaning the interior and exterior. If you're at the car wash with a pressure washer, you should exercise caution when it comes to the tyres and windows: Both are sensitive to the severe high-pressure jet at short distances and could be damaged. So please keep your distance. Vehicles with a sheet-metal body can also tolerate conservation, and yellowing can be prevented in vehicles with a GRP body through polishing.

It is imperative that you check the wheel houses and underslung for clusters of dirt, as moisture is absorbed here, which can cause rot or corrosion. It is also worth taking this opportunity to shut off openings and pipelines, wherever possible, so that bugs and small animals cannot get in.

On your last journey in the winter season, quickly stop off at the petrol station and pump up your tyres by 0.5 bar. This will help to prevent flat spotting. This is also why your parked vehicle should be moved a few centimetres every so often throughout winter. If the vehicle is parked on level ground, always take off the hand brake and put it in gear and/or take off the corner steadies and secure with wheel chocks. Now is also the time to ensure there is antifreeze in your motorhome's coolant reservoir and plenty of screenwash designed to be effective at subzero temperatures.

Treat door, external hatch and window seals with an appropriate acid-free rubber cleaner, which will prevent the seals from freezing over and maintain the elasticity of the material. This will prevent the seals from leaking at a later date.

If the vehicle has access to a power connection throughout the winter months, you can use the on-board electronics' charging function to keep the batteries in good shape. Otherwise, we recommend taking out the on-board batteries, charging them and storing them in a frostproof place. If you have a charger with charge maintenance, keep the batteries connected to it. Otherwise, charge them up every four to six weeks.

It goes without saying that gas bottles should always be turned off and disconnected with their safety cap on when stored in the vehicle throughout winter. Nevertheless, make sure the exhaust ventilation is always open. Once the toilet flush tank (if there is one) and the cassette have been emptied, campers should empty out their vehicle as much as possible. Above all, do not forget about food and drink – bottles can burst if they freeze.

Now is also the time to thoroughly vacuum carpets and upholstery and lean upholstery against walls and furniture in the vehicle after cleaning. The PVC flooring and all smooth surfaces can be cleaned using soapy water or a mild household cleaning product. Keep furniture hatches, doors and, of course, the fridge open after cleaning so that air can circulate here.

Just before cold snaps arrive, the entire fresh water system should be completely emptied and cleaned, disinfected, descaled and made frost-resistant. Products designed for this specific purpose are available from your dealership. You can find more information on waste water and fresh water in recreational vehicles here.

Next, move the handles on all taps to the middle position and fully open them. Warning: first turn off the power to the pump in motorhomes and caravans with an on-board battery (disconnect the pump switch and pump fuse in the ballast). If you want to be on the safe side, you can blow oil-free compressed air through the pipes to dislodge any residual water.

To prevent long-term damage to the vehicle, two regular in-phase checks are recommended. We've already mentioned small movements to avoid flat spotting in tyres. But proper ventilation is also very important. If moisture is left sitting in the wood, upholstery and fabrics after your last holiday, this will turn into condensation and can lead to mildew and mould stains when the temperatures drop. The first indication of this is a stale, musty smell in the vehicle. Regular ventilation can help combat this – for an hour in dry weather every four to six weeks.

Dehumidifiers are also an effective preventative measure against moisture and mould forming in caravans and motorhomes. They should definitely be used in vehicles that cannot be stored in a completely dry indoor location. There are three different methods that are suitable for use in caravans or motorhomes: chemical airdrying, renewable desiccants and physical dehumidifiers. Chemical airdrying is designed for one-time use. A water-absorbing salt draws the moisture out of the air, melts in this process and trickles into a catch tank as a saturated saline solution. Renewable products work with diatomite, for example, where the absorbed moisture is released when heated in the oven.

Physical dehumidifiers mainly work in line with the process of condensation, where the moisture turns into condensation on a cold element and trickles into a catch tank. This, of course, requires 230 volts of power in winter with intermittent checks of the water level in the catch tank. Many owners of air-conditioning systems do not know that they also extract moisture from the air. So they should also be operated regularly in winter, too.

All recreational vehicles can easily survive the winter period if squeaky clean, well-protected and regularly aired. For many, many years to come!