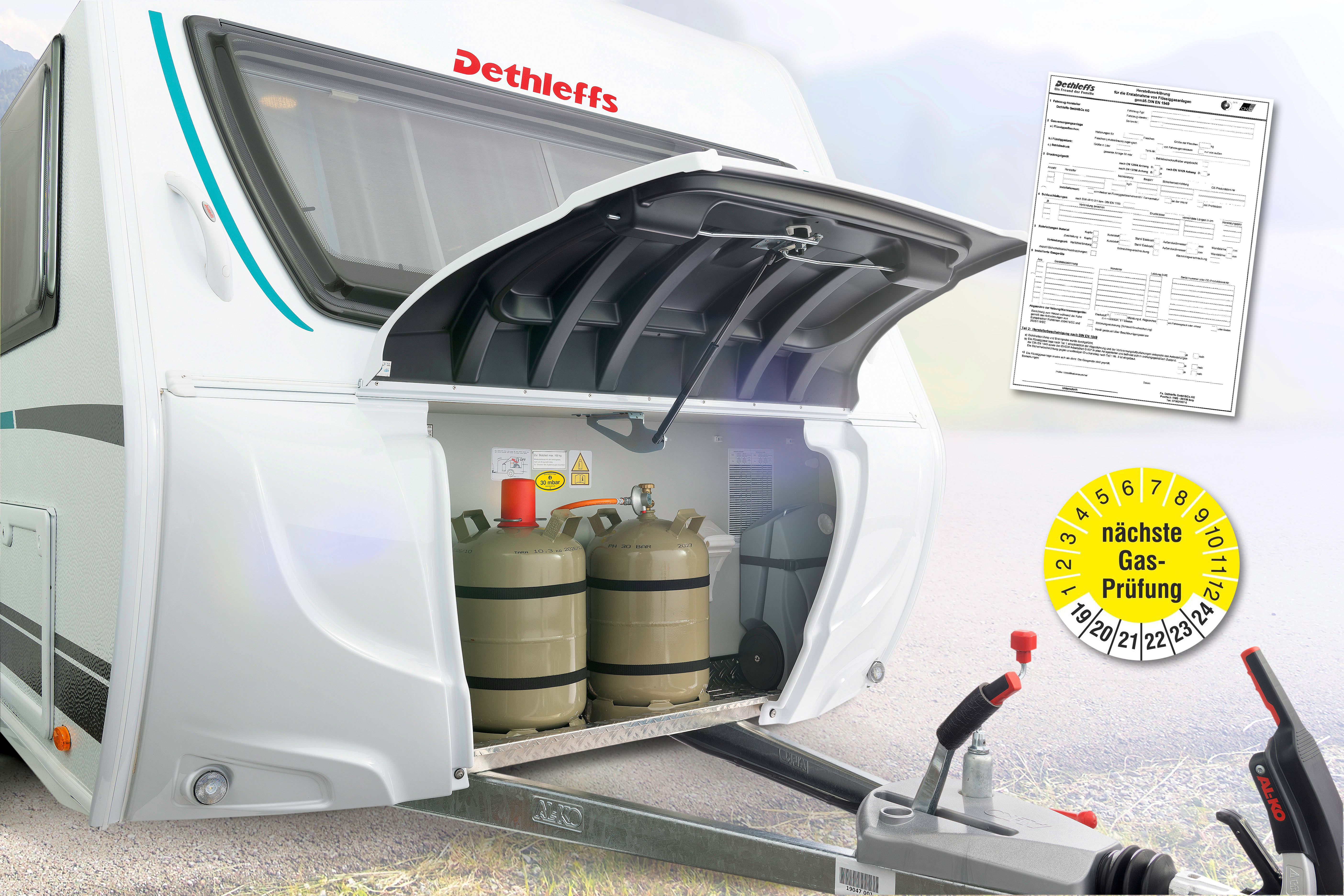 The G 607 gas test is important

There are specific regulations for using and servicing the gas system in recreational vehicles. Liquefied petroleum gas is used in recreational vehicles as a universal energy source for cooking, heating and for the fridge. Sophisticated technology makes this use very safe.

A caravan has always been able to pass an MOT without a valid gas test badge or certificate – and it still can. If the gas test were missing, it would be shown as an advisory. Until recently motorhomes required a valid test certificate for the gas system for the MOT badge displayed on the licence plate. Please check country-specific rules here, as they may vary.

New gas testing regulations from 2020
From 1 January 2020, the gas test is no longer included in the MOT: The advisory rating will be temporarily suspended until 1 January 2023. In specific terms, that means passing a gas test is no longer required to pass the MOT for motorhomes, and it will not be shown as an advisory for caravans. Why? The equipment used to perform the test does not meet the requirements set out in the MOT quality control guidelines.

Nevertheless, the "G 607" biannual gas test is extremely important. "Passing the test proves the liquefied petroleum gas system is working as it should, thus ensuring its safety. If you do not have this proof, there may be consequences under private law in the event of a claim," warns the German LPG Association. In plain terms: If there is an accident involving a gas system that has not passed a gas test, insurance companies could refuse to pay out on first- or third-party claims.

Campsites also have the right to deny entry to recreational vehicles that do not possess a valid gas test certificate – and they do do this.

Handling the gas system
On the one hand, this concerns the bottle in which the liquefied petroleum gas is stored under a pressure of around eight bars. A year is stamped on the cylinder – the bottle's safety check is valid until then. This is not a problem for single-use bottles, as they simply need to be exchanged for a full bottle before this date. As a rule, this bottle will no longer be accepted by dealerships after this date – a new TÜV certificate will then be due. This costs around €70. Refillable gas bottles and installed gas tanks also have a date stamped on them. Tanks need to be removed from the vehicle in order to be tested. Once the test is complete, the bottle or tank will be approved for use for a further ten years of operation.

The pipes and pressure regulator also have an expiry date. They must be replaced ten years after they were made at the latest, regardless of their functionality. Aside from the aforementioned "G 607" test certificate, caution is always required when handling the gas system. For example, this includes never closing off the gas bottle ventilation near the flooring or covering it with luggage. Leaking liquefied petroleum gas is heavier than air. In the event of a leak, it would pool by the floor, and the ventilation opening allows it to safely escape outside. There should also be no electric ignition sources, such as a cut-out switch or inverter, in the gas bottle locker. The gas bottle locker is therefore off-limits for retrofitted electrical accessories.

Practical tips for the caravan gas system
Replace single-use gas bottles in good time, before the end of the year embossed on the handle.
Do a new pressure test on refillable bottles and tanks before the end of the year printed on them.
Tanks for LPG systems must be tested every ten years. The tanks need to be removed from the vehicle for the test to be performed. This should be taken into consideration when buying a used vehicle.
There must be no electrical ignition sources in the gas bottle locker. So do not install electrical accessories there.
The gas bottle locker's ventilation opening near the floor must never be closed off by accessories or luggage.
Replace the pressure regulator and its pipe every ten years, regardless of their functionality.


Gas test certificate and log book
Unfortunately, we cannot issue a new gas test log book. If you are no longer in possession of the log book, the inspector must perform another gas test in order to issue a new gas test log book. We can verify whether a gas test has been conducted for your vehicle by checking against your vehicle identification number. If you would like us to do this, please email us at service@dethleffs.de.